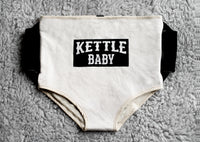 The Patented Parent + Child Fitness Device: KettleBaby!
KettleBaby allows busy parents to reclaim fitness in their lives and maintain their exercise routines while spending quality time with their kids.  
You no longer have to sacrifice family time to go to the gym, and you no longer have to miss workouts to be a loving, involved mom or dad. 
Get KettleBaby and work out without missing out! 
KettleBaby
Stop Sacrificing Family Time to Exercise
You're a loving parent who values a healthy, active lifesteyle.
Fitness is important to you, but with a new baby in your life, finding time and energy to workout feels impossible.
You wonder... "Am I being selfish to leave my kids to exercise?"
Stop sacrificing time with your kids to stay fit.
Stop sacrificing your fitness to be an involved and loving parent.
We've been there.  It's tough.
KettleBaby lets you stop the sacrifice and start working out without missing out.
Follow us @kettlebaby on Instagram and join our mailing list to be the first to know when our Kickstarter goes live!